International Advanced Technology of Champion Coffee Process
Gourmet Raw Beans, International Champion Roasting Processes, Irreplaceable Professional Standards.
Co'Free Sources Coffee From All Over The World
Co'Free sources Coffee from major Coffee Producing Regions worldwide, From Asia: Indonesia, India, Taiwan, Vietnam, Africa ETASA, Kenya, Yemen, Zimbabwe. Central and South America: Brazil, Guatemala, Colombia, Honduras, Panamá. Oceania: Australia. We provide our clients with the best Coffee Beans as their enjoyment is our priority.
The Roasting Process Defines Your Coffee
"The most expensive beans, may not become the best Coffee" while the quality of Coffee Beans and roasting techniques are important parts of determining the quality of your Coffee, brewing and roasting techniques are the most important. Good Coffee is made from high quality Raw Coffee Beans, however, the aroma and taste is produced only after roasting. Many factors go into creating the perfect cup of Coffee: Roasting Heat, Timing , Temperature Control, Water Content in the Raw Bean all must be perfectly controlled to produce a high quality Coffee Drink. Well Roasted Beans can draw out the rich and complex flavours of a Coffee Bean, Poorly roasted Coffee Beans could have their rich and complex flavours ruined.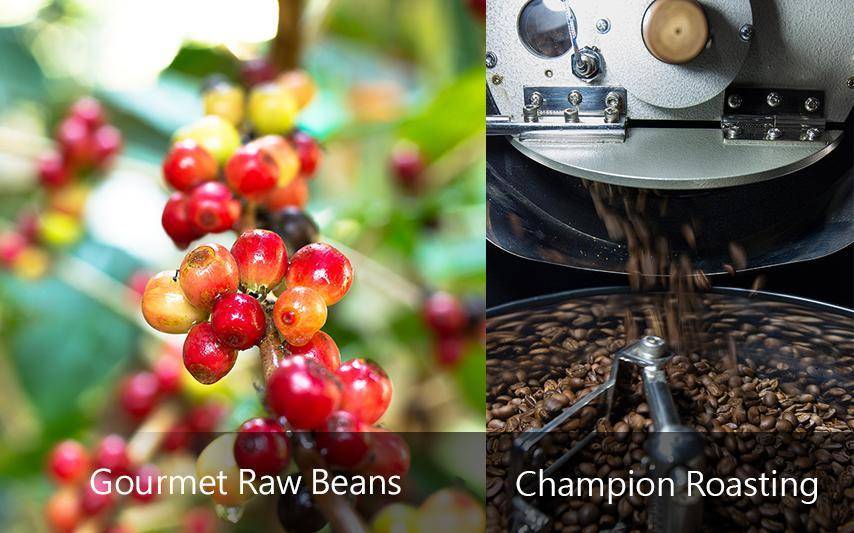 Co'Free Fresh Gourmet Original Raw Beans . Champion Roasting Processes. Irreplaceable Professional Standards.
Co'Free uses Japanese Drip Coffee Technology, With Champion Roasting Processes, the best European and American Grinding and Roasting Technology to bring you even and multi layered flavour in your Coffee. Your signature flavor is created and preserved at its peak freshness with Nitrogen Gas to prevent Oxidation using a special Vacuum Sealed Process. To store the Coffee in the best quality. A rigorous process is applied from the selection of raw materials to the finished products, Ingredients Free of Additives, Food Safety Compliant Packaging, Co'Free Coffee is truly safe to consume with Industry Leading Product Liability Insurance of NT$ 20 Million., Showing Co'Free as a one of a kind irreplaceable request of Coffee .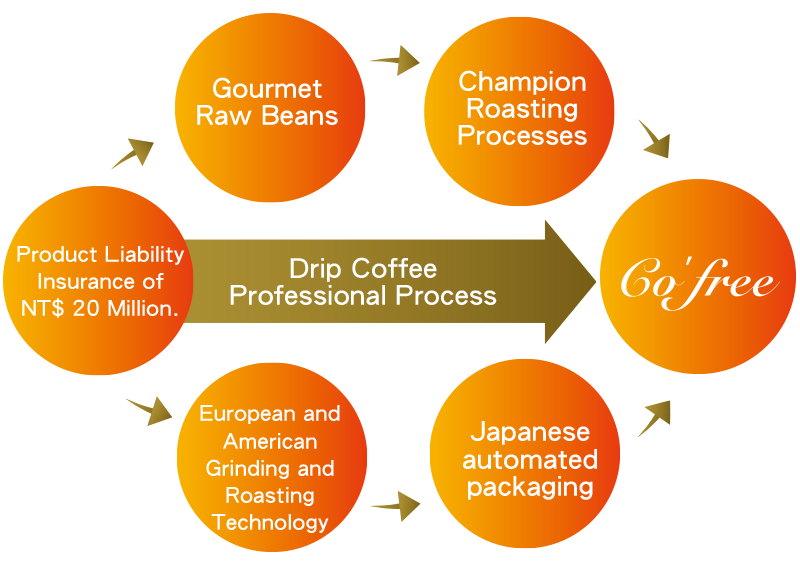 Exclusive Customized Brand Diagnosis Marketing Breakthroughs
Exclusive modulation, all your unique brand and customer's exclusive spiritual talking, starting from the tacit understanding with a cup of coffee….
Convenience and Top Coffee Enjoyment Starts from Drip Coffee…
The Asian Coffee Drinking' Population has a growth rate that surpasses double digits per year. Coffee is not only a joy to the taste buds, it also reflects the drinker's individual tastes. Many understandings can be established from a cup of Coffee. Co'Free believes that the rich and complex flavours of Coffee makes it the best medium for communicating your Corporate Brand. Studies have also found numerous health benefits to drinking Coffee when drunk moderately. Consumed at the right amount Coffee has been found to: Energize people, increase alertness, increase relaxation, reduce Cancer Rates, tone the: Body, Mind and Spirit as well as being a known Antioxidant as well as the ability to prolong life, Coffee has many more undiscovered benefits. Easy to store, sealed in freshness, easy to carry rich in taste, Co'Free recommends Drip Coffee to open conversation about your Brand. Let's begin the innovation experiment.
Co'Free Offers 360 Degree Marketing Services with Coffee As A Promotional Medium
Co'Free's diagnosis according to the status of the enterprise and integrated to provide coffee for core media to do a comprehensive marketing plan, creating Firm-Specific tastes and Brands to achieve a comprehensive Promotion and Growth Objectives we adhere to the principle of mutual sharing profits to create a Win Win Win Success.
Exclusive Customized Brand Diagnosis Processes
Our Professional Management Team provides a full Marketing Service using Coffee as a medium. And have mutual confidential agreement to sign for; From customized: Planning, Proposal, Design, Production, Printing, Packaging, Shipping and Distribution. In addition to the packaging of brand-specific Design services, Co'free also has professional process advantages, using the richness of the taste of Coffee taste, unique coffee taste modulation exclusively-owned enterprises. Using breakthrough marketing, open friendship between you and your customers with Coffee communication conversation.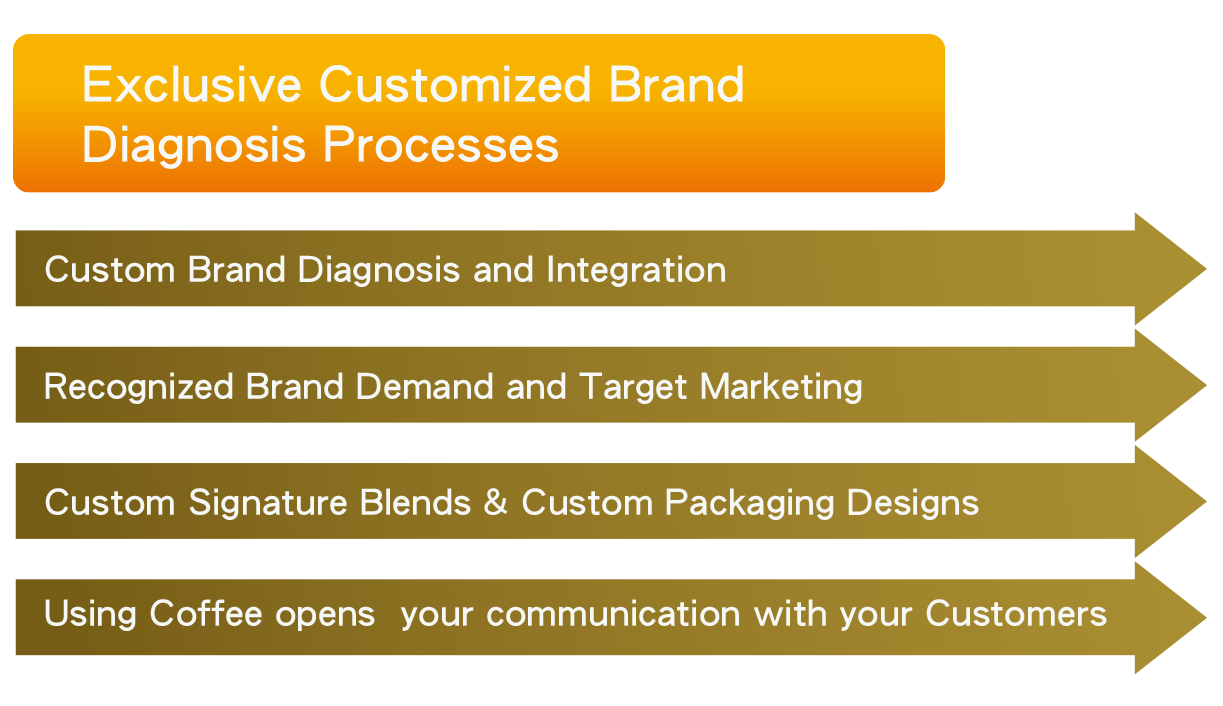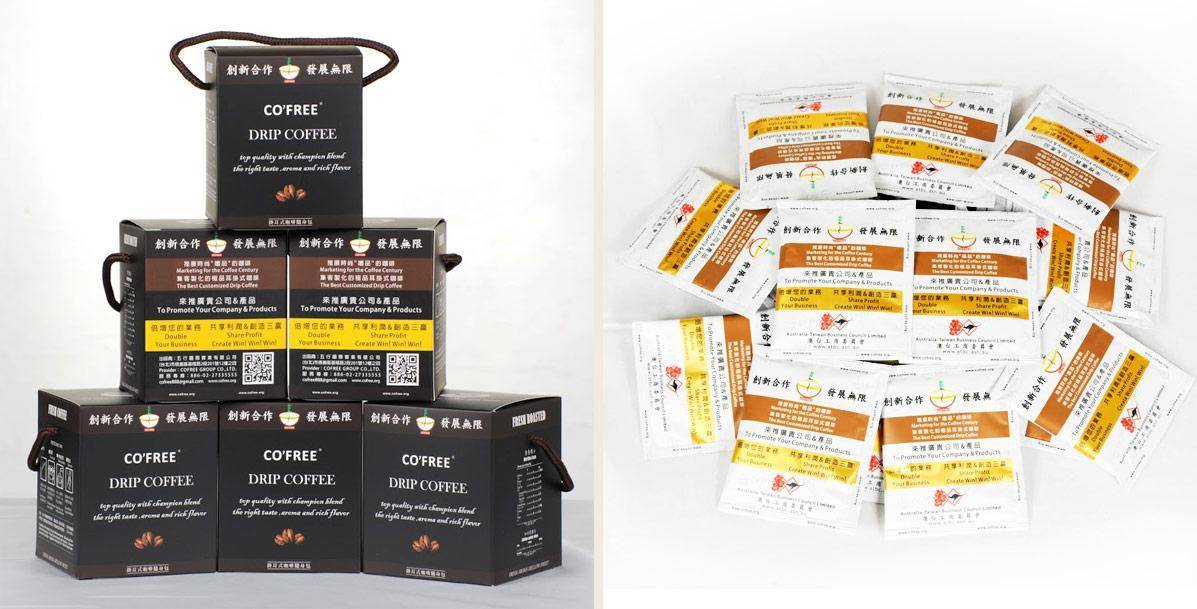 Create Huge Profits with Win-Win-Win Cooperation
Innovative Business Model, Brand Performance, Win-Win-Win Profit Share Model

The First Win: Co'Free uses Coffee as the most powerful media business model to help promote Your Corporate Image, Brand and Product through fashion, elegant, modern Café culture closer distances between customers, business breakthrough performance, for the lst Win.
The Second Win: Business and customer direct sharing of best value, the best quality coffee, but also profit-sharing,for the 2nd Win;
The Third Win: Enterprise use of existing resources, Breakthrough of Traditional Business Patterns to create new Profits. Use of existing resources, traditional patterns to create new profit is the third Win!
In addition to the exclusive coffee brand communications and brand equity building, Co'Free offers you an innovative profit growth business model, professional and secure through our latest technology cloud operating systems, help create as huge blue ocean market, we insist on our Core Operating Principle of Mutually Beneficial Profit Sharing, and create a Win Win Win Cooperation.